Protective desk screens have become a key addition to workspace environments during the current pandemic.
Mykon's screens provide a robust solution to protect employees, separating workspaces and helping to intercept the respiratory droplets thought to transmit the virus, while still allowing visual contact to be maintained. The screens are lightweight but strong and can be supplied in a variety of bespoke dimensions.
Whilst employee safety is of upmost importance, providing a comfortable and well-lit workspace when working in the office is also an important consideration.
Manufactured from 4mm thick clear polycarbonate, Mykon's screens are designed to appear almost invisible allowing light to diffuse through easily and maintaining the appearance of an open office environment.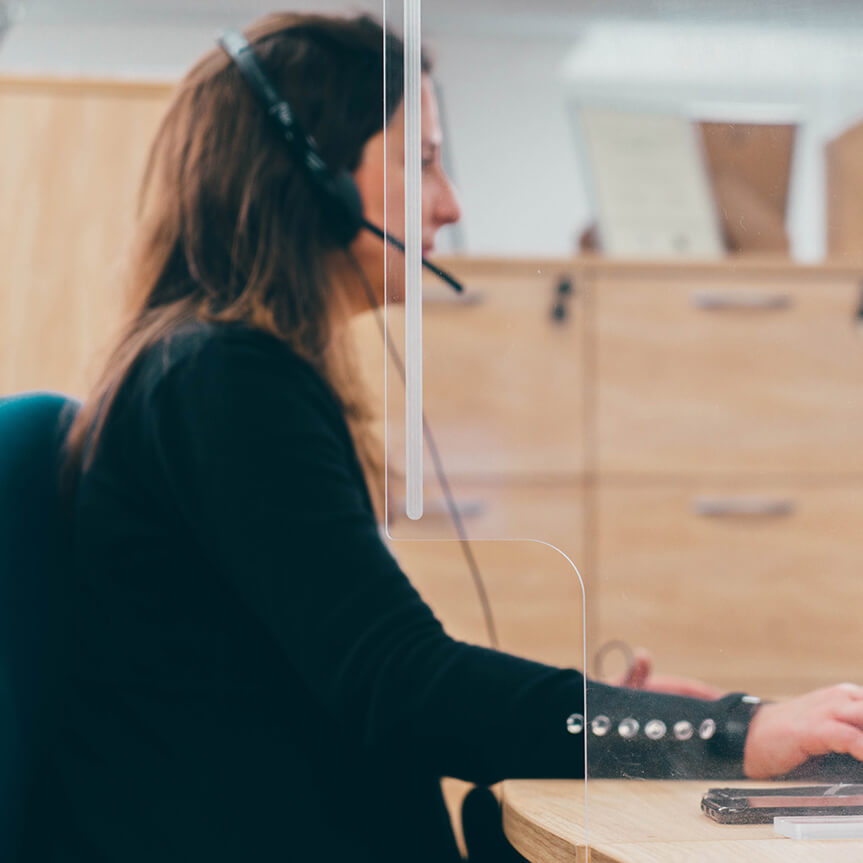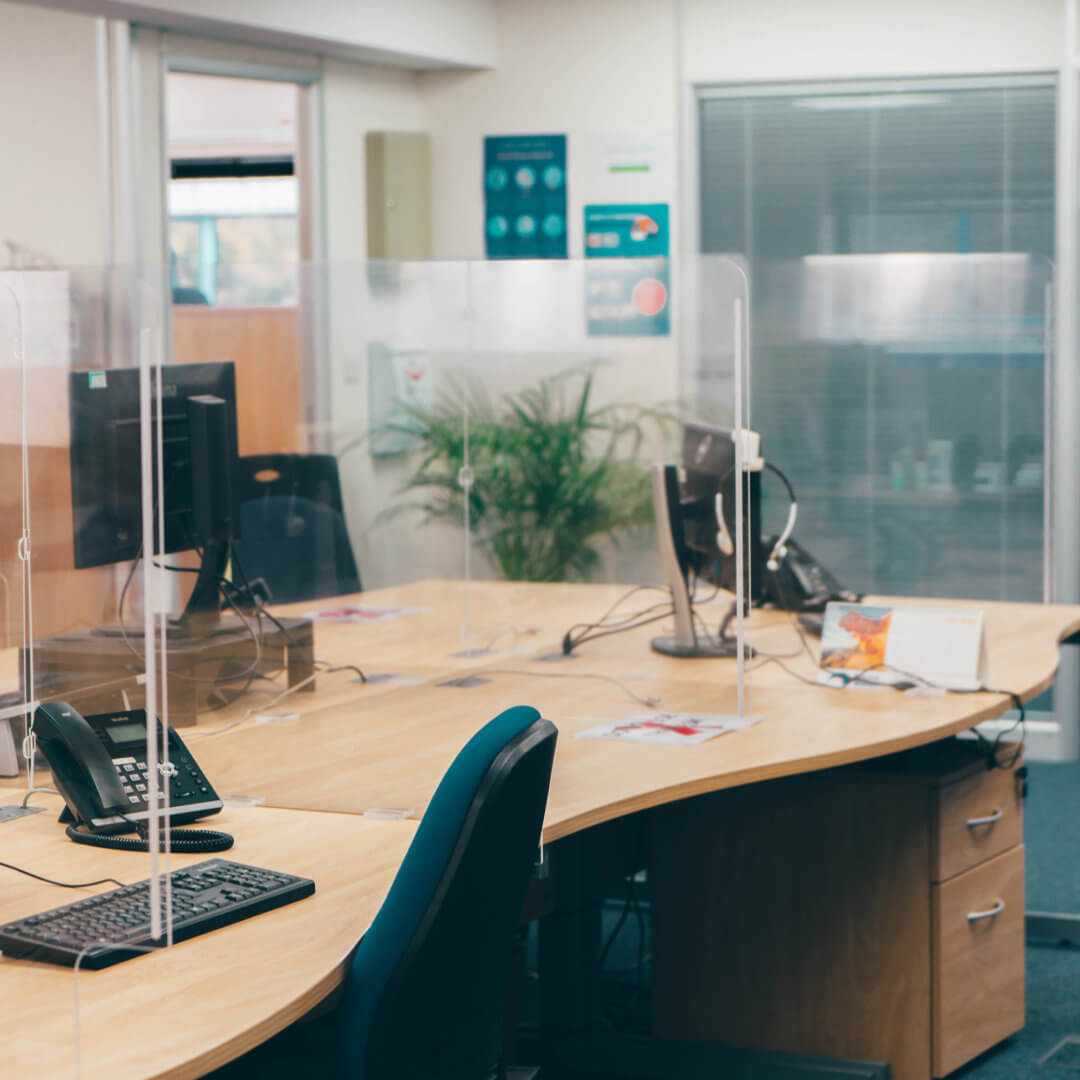 Benefits to Having a Well-Lit Workspace:
Having good lighting in a workspace can boost an employee's mood. It will stop their eyes from straining, which can cause them to feel tired thus decreasing productivity.
Positive effect on mental health
Working in a dull environment can have a negative effect on a person's mental health and can cause them to feel depressed. Ensuring that ample lighting is in place will create a positive working atmosphere.
The World Green Building Council says "workers feel more engaged when they work in natural light." By being engaged the employee can stay focused on their tasks and is more likely to collaborate with other team members thus again increasing productivity.
Desk screens are a great way to ensure light is not blocked from entering workspaces at the same time as protecting your employees, as they allow light to freely filter through the room. Another option to consider is partitions.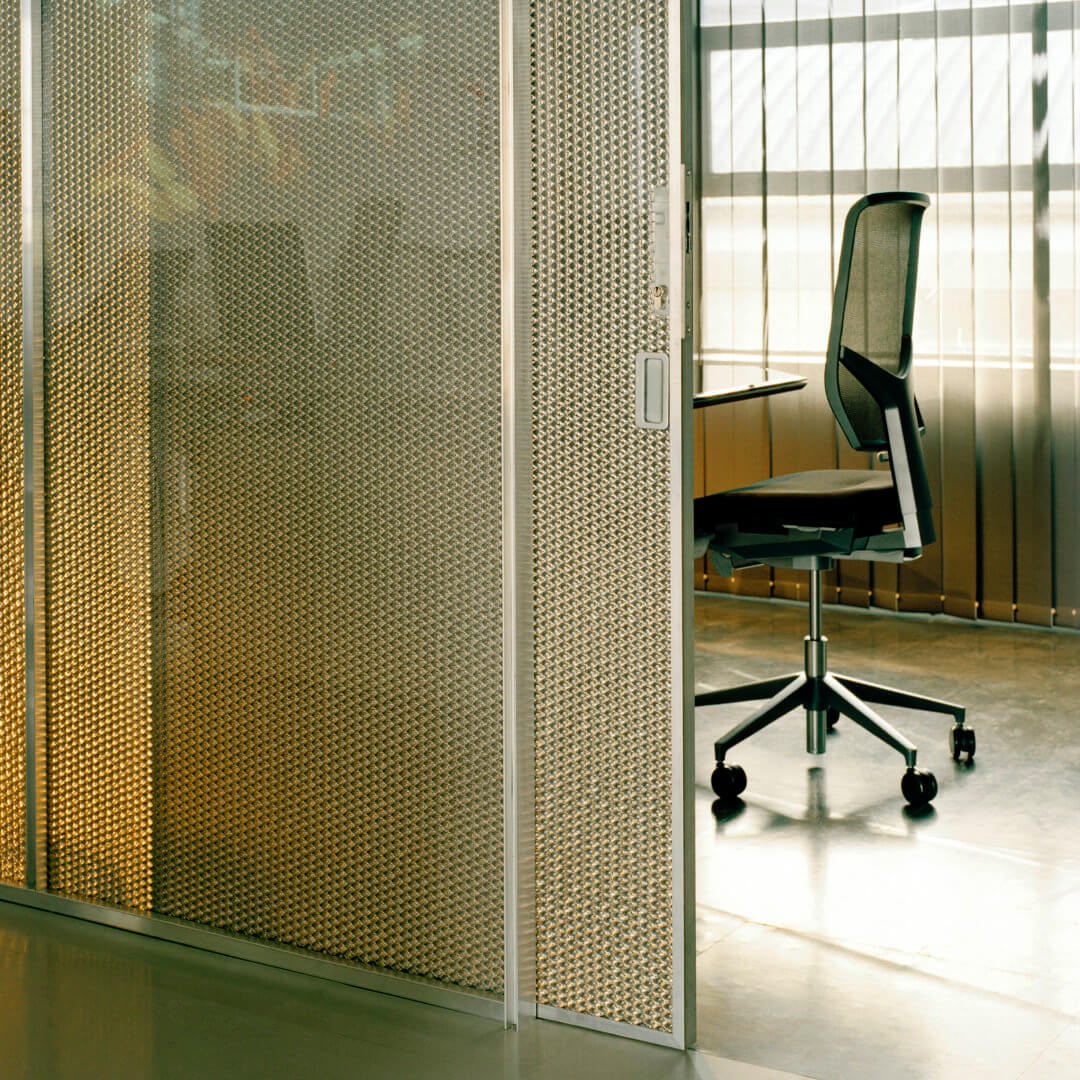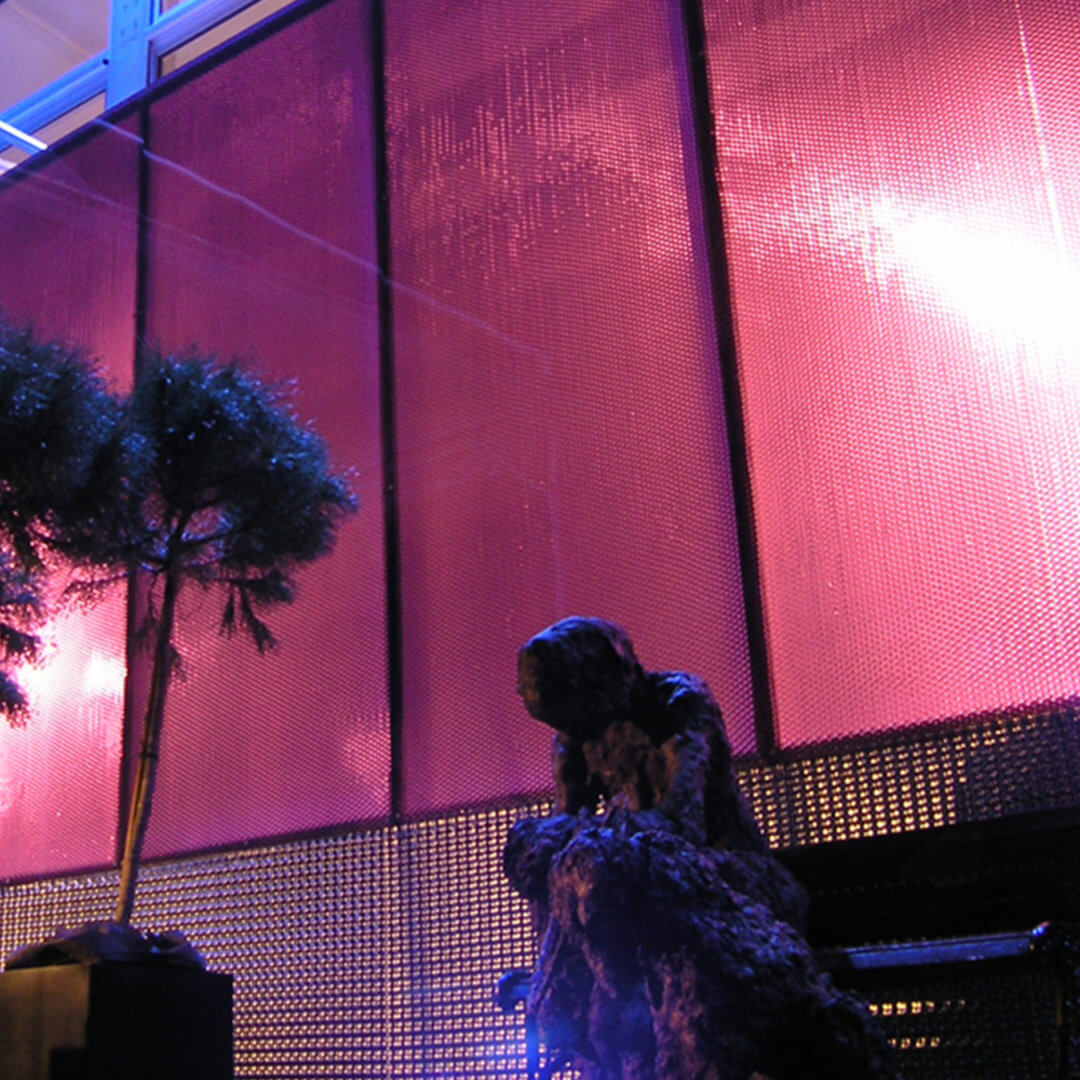 Partitioning:
In addition to clear protective desk screens, Mykon have the capability to manufacture partitions.
You can update old partitioning systems or fill new screen surrounds with a selection of easily integrated Mykon panels to create an environment filled with light as well as interest.
Unlike most partitioning systems, many of our panels offer privacy without sacrificing on light transmission. The B-Clear and B-Clear 'The Series' range have a 78% light transmission rate; light passes through the panel but the product itself remains translucent. This ensures privacy and results in an area full of natural daylight – making Mykon panels an ideal alternative to comparable glass products.
By placing aluminium honeycomb core, which is available in a range of different cell sizes and thicknesses, between glass, acrylic or polycarbonate skins, Mykon partitions provide an ideal method of partitioning.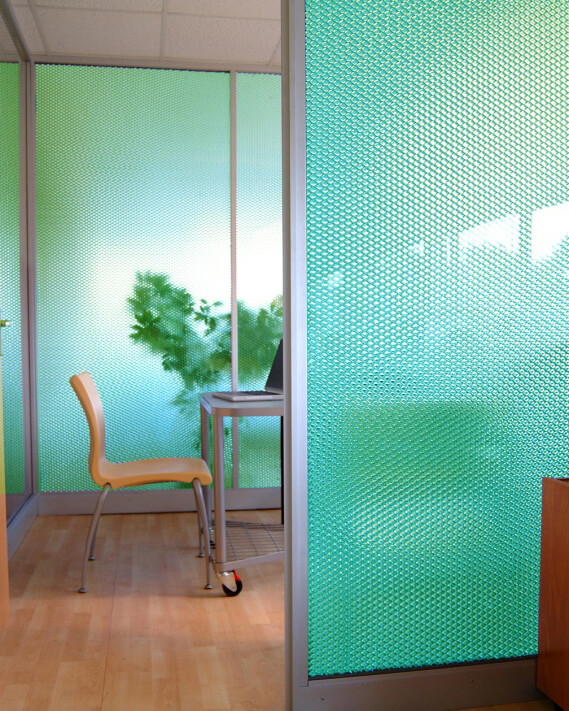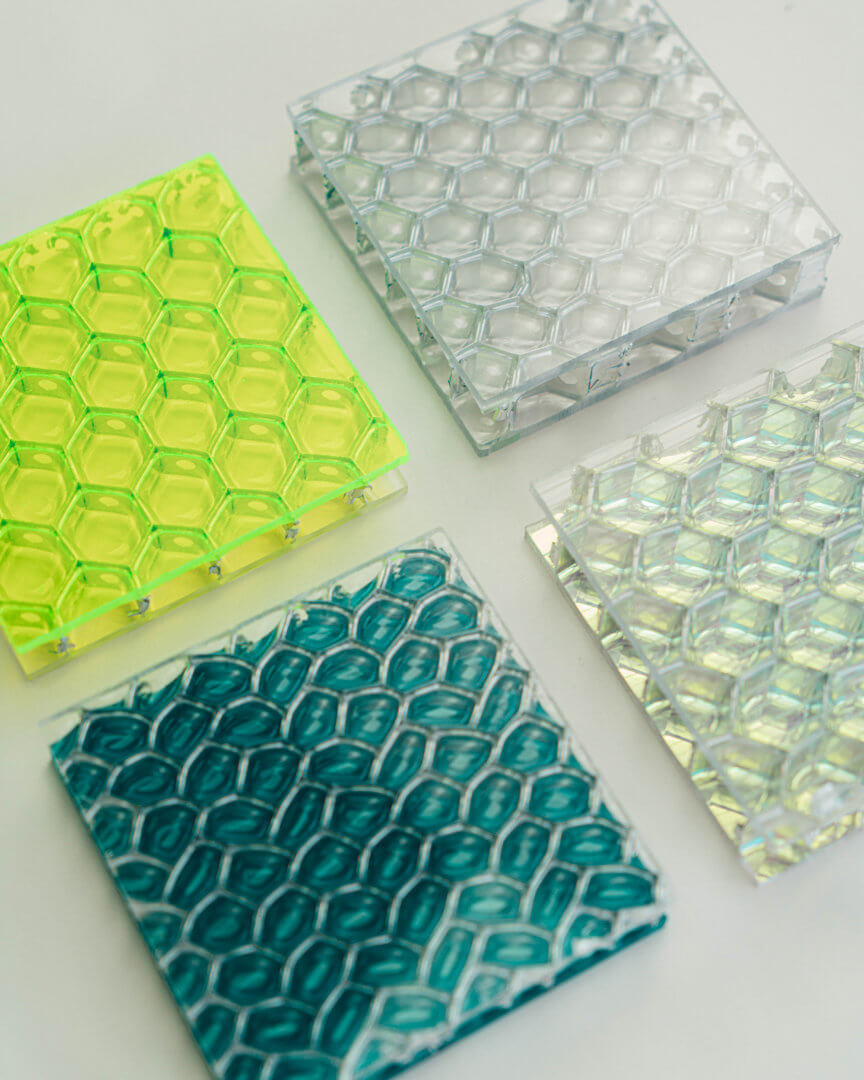 Our B-Clear 'The Series' composite panels are available in a vast variety of colour finishes, cut to customer-specified shapes. These panels are also available with integrated LEDs.
Mykon's panels are bespoke and made-to-order so all that is needed from you is the required dimensions and shape.
The Mykon team are always happy to talk so be sure to get in touch to speak to us directly about your partitioning requirements or to request a bespoke quote for protective desk screens. Alternatively, you can find out more about the range of products we offer on our website here or via our Instagram feed here.
Sources: