With their geometric design and exceptionally high strength to weight ratio, Mykon's decorative composite panels can be used in both the architectural and interior design industries.
The layers of the panel are bonded together with a strong adhesive and pressed together until the adhesive cures. The lightweight aluminium core keeps the two skins in position, while the two skins produce a visually striking and unique 'fish-eye' effect. This technique makes the panels aesthetically pleasing and still ensures privacy without forming a barrier to light.
Glass and polycarbonate skins can both be used to manufacture Mykon's decorative composite panels with transparent and opaque options using different coloured skins also available.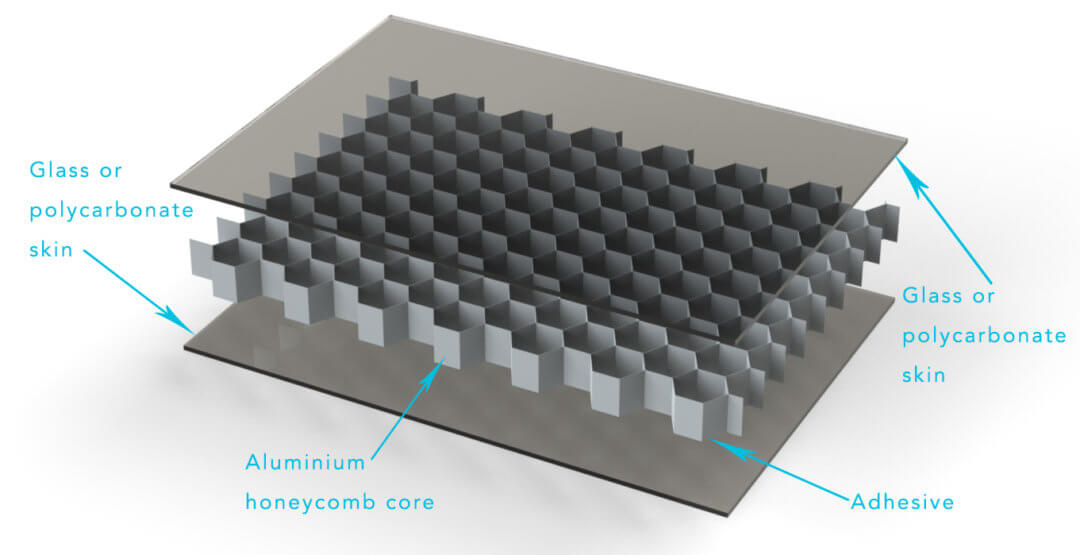 Each individual cell allows light to pass through, but together the cells remain translucent to ensure privacy when it is required. Mykon's panels can be manufactured in a range of shapes and sizes so that you can decide how much light you want to use in a room.
Properties of Mykon's decorative composite panels:
Light transmitting
Lower energy requirements
High strength to weight ratio
Transparency
Sustainability (recycle & reuse)
Durability
Slip resistant finish
Fire resistant
Excellent compression and shear properties
Range of core sizes
Choice of external skins and finishes
Aesthetically pleasing
Shatter proof
High impact resistance
Acoustic absorbing
Applications:
Mykon's panels are manufactured from our UK based headquarters in Cambridgeshire, distributed worldwide and suitable for a wide range of interior design and architectural applications:
Partitions & Screens
Flooring
Walkways & Staircases
Doors
Ceilings / Ceiling panels
Bars & Worktops
Shop Fittings
Bespoke Furniture
Cladding
With their unique set of properties and visually appealing effect, the possibilities for the application of Mykon's decorative composite panels are truly endless.
The Mykon team are always happy to discuss new and exciting ideas so be sure to get in touch to speak to us directly about your project requirements. Alternatively, you can find out more about the range of products we offer on our website here or via our Instagram feed here