Pantone Color of the Year 2022, PANTONE 17-3938 Very Peri, was chosen for its confidence and curiosity.
This year, the Color of the Year was not selected but created by Pantone. Creating a new colour for the first time in the 22-year history of the Colour of The Year reflects the "global innovation and transformation taking place", said Laurie Pressman, Vice President of the Pantone Color Institute.
The choice of Very Peri was "largely influenced by the desire to overcome the Covid-19 pandemic, environmental concerns and a larger reckoning with injustice and flaws within our current social structures", Time reported.
Pantone believe Very Peri, in these transformative times, illustrates "the fusion of modern life and how colour trends in the digital world are being manifested in the physical world and vice versa". People's perceptions and standards are changing due to periods of intense isolation, with physical and digital lives merging in new ways. This "carefree confidence and daring curiosity" colour can encourage people to embrace possibilities and to rewrite their lives.
"PANTONE 17-3938 Very Peri displays a spritely, joyous attitude and dynamic presence that encourages courageous creativity and imaginative expression". – Leatrice Eiseman, Executive Director of the Pantone Color Institute
Very Peri, a color of hope and creativity, contains the energy of the blue and the excitement of violet-red, which "introduces an empowering mix of newness" and "places the future ahead in a new light".
Pantone's Color of the Year, which has been chosen annually for 23 years, has helped influence product development in a variety of industries such as fashion, home furnishings and industrial design. Helping each industry to choose designs from season to season.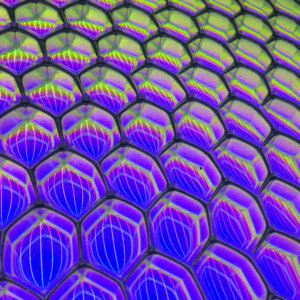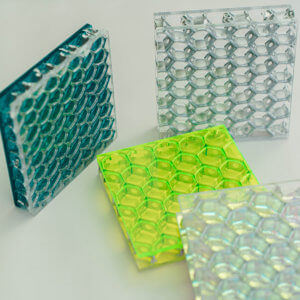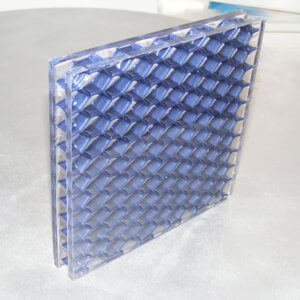 How Very Peri can be used in Mykon's composite panels:
By placing aluminium honeycomb core, which is available in a range of different cell sizes and thicknesses, between glass, acrylic or polycarbonate skins, Mykon produce the ideal striking composite panel to suit any project or application.
Our B-Clear 'The Series' composite panels are available in a vast variety of colour finishes, cut to customer-specified shapes. These panels are manufactured by applying coloured glass or polycarbonate outer skins to our signature aluminium honeycomb centre, creating the unique ''fish-eye'' effect.
Using coloured skins, Mykon would be able to manufacture panels with Pantone's Color of the Year 2022, PANTONE 17-3938 Very Peri.
With their geometric design and exceptionally high strength to weight ratio, B-Clear 'The Series' panels can be used for a wide range of applications such as partitions and screens, bespoke furniture, walkways and staircases.
The Mykon team are always happy to discuss any project requirements so be sure to get in touch to speak to us directly. Alternatively, you can find out more about the range of products we offer on our website here or via our Instagram feed here.