Coloured partition screens are a great way to add interest to a workspace or home office environment, but choosing the right colour is the tricky part.
A workspace is all about productivity, so you need to choose a colour that will keep your energy focused but also have a calming effect. For instance, blues and greens create a sense of balance and serenity to help you concentrate on the task at hand. Whilst darker colours could have the opposite outcome.
In fact, according to a psychology study at the University of Rochester in America, the colour red increases the speed and intensity of your emotions. Meaning that it can make you feel as if all your tasks are urgent, which could lead to a sense of anxiety and worry – not what you would want for your working environment.
Psychology of colour
Choosing different colours can impact your interior space and mood. Famed colour psychologist Angela Wright developed the Color Affects System in order to prove that there is a correlation between colours and human behaviour.
Following years of extensively studying colours and how they can influence a persons mood, Angela Wright wrote the Wright Theory in 1984. This theory is still used today as a benchmark of colour psychology.
Following Angela Wright's Color Affects System ''there are four psychological primary colours – red, blue, yellow and green. They relate respectively to the body, the mind, the emotions and the essential balance between these three.''
Red: Body
The colour red evokes a sense of urgency and can be perceived as demanding and aggressive. Perhaps not ideal for office environments.
Blue: Mind
The colour blue stimulates the mind and has a soothing effect on our mental state, leading to more productivity. ''Strong blues will stimulate clear thought and lighter, soft blues will calm the mind and aid concentration,'' Angela Wright explains. A perfect choice for a workspace.
Green – Balance
The colour green is all about balance. It evokes reassurance, calmness and stability making it a good option for an office environment.
Yellow – Emotion
The colour yellow stimulates emotion. According to Angela Wright ''therefore yellow is the strongest colour, psychologically.'' It evokes feelings of happiness and is the ideal colour to encourgae creativity, making it a great choice for an office. Yellow has even been chosen as one of Pantone Color Institute's Colors of the Year 2021.
Earlier this year, the Pantone Color Institute announced PANTONE 13-0647 Illuminating and PANTONE 17-5104 Ultimate Gray as their Pantone Colors of the Year 2021 – chosen for their warmth and dependability. Pantone's Illuminating was defined as "a bright and cheerful yellow sparkling with vivacity, a warming yellow shade imbued with solar power." Whilst Ultimate Gray, like pebbles on the beach, as "emblematic of solid and dependable elements which are everlasting and provide a firm foundation."
Pantone's Color of the Year, which has been chosen annually for over 20 years, has helped influence product development in a variety of industries including fashion, home furnishings and industrial design. Helping each industry to choose designs from season to season.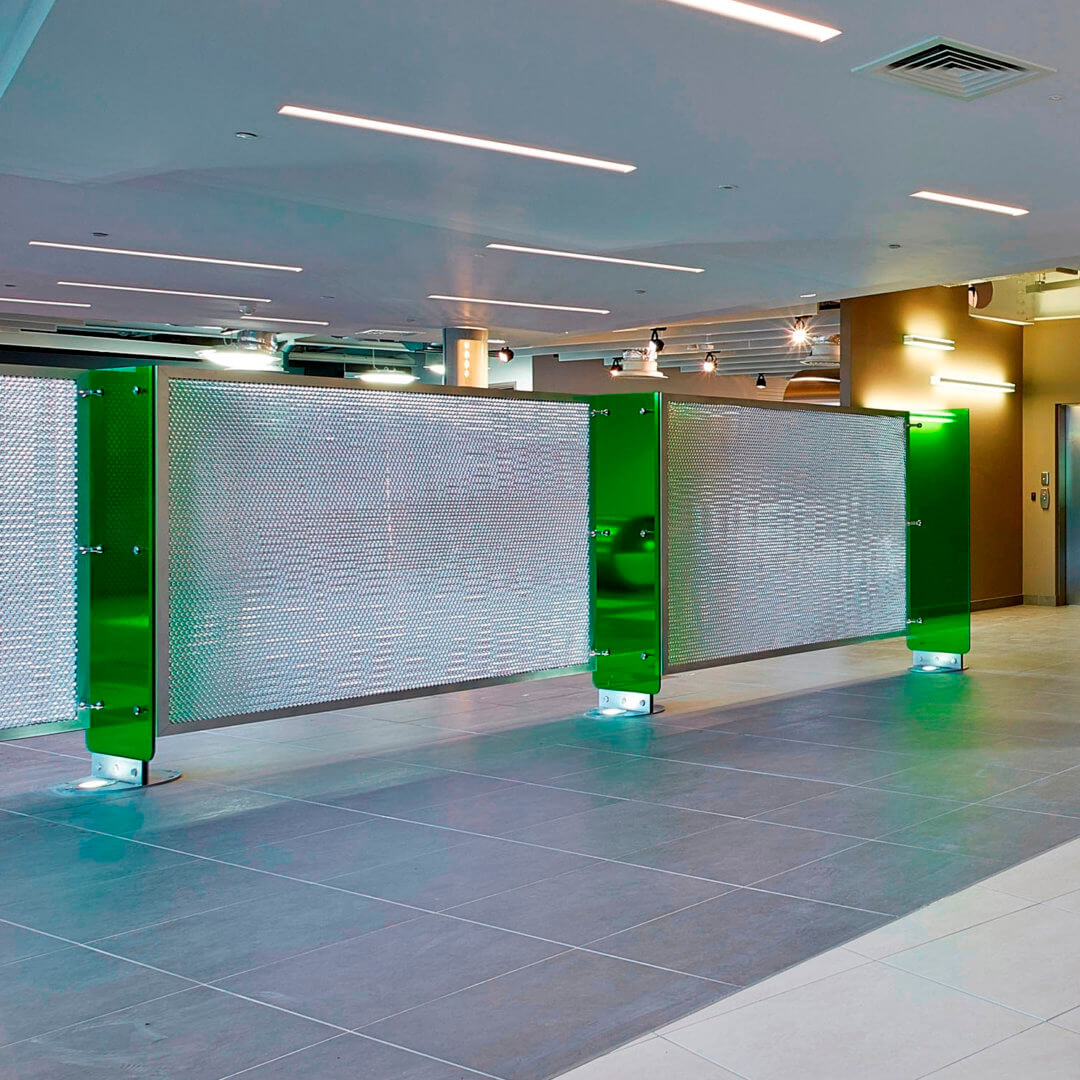 Coloured partition screens by Mykon
Now that you may have an idea of the perfect colour for your workspace or home office partition screens it is time to choose your partitioning material.
By placing aluminium honeycomb core, which is available in a range of different cell sizes and thicknesses, between glass, acrylic or polycarbonate skins, Mykon manufacture striking composite panels which can be used to make coloured partition screens.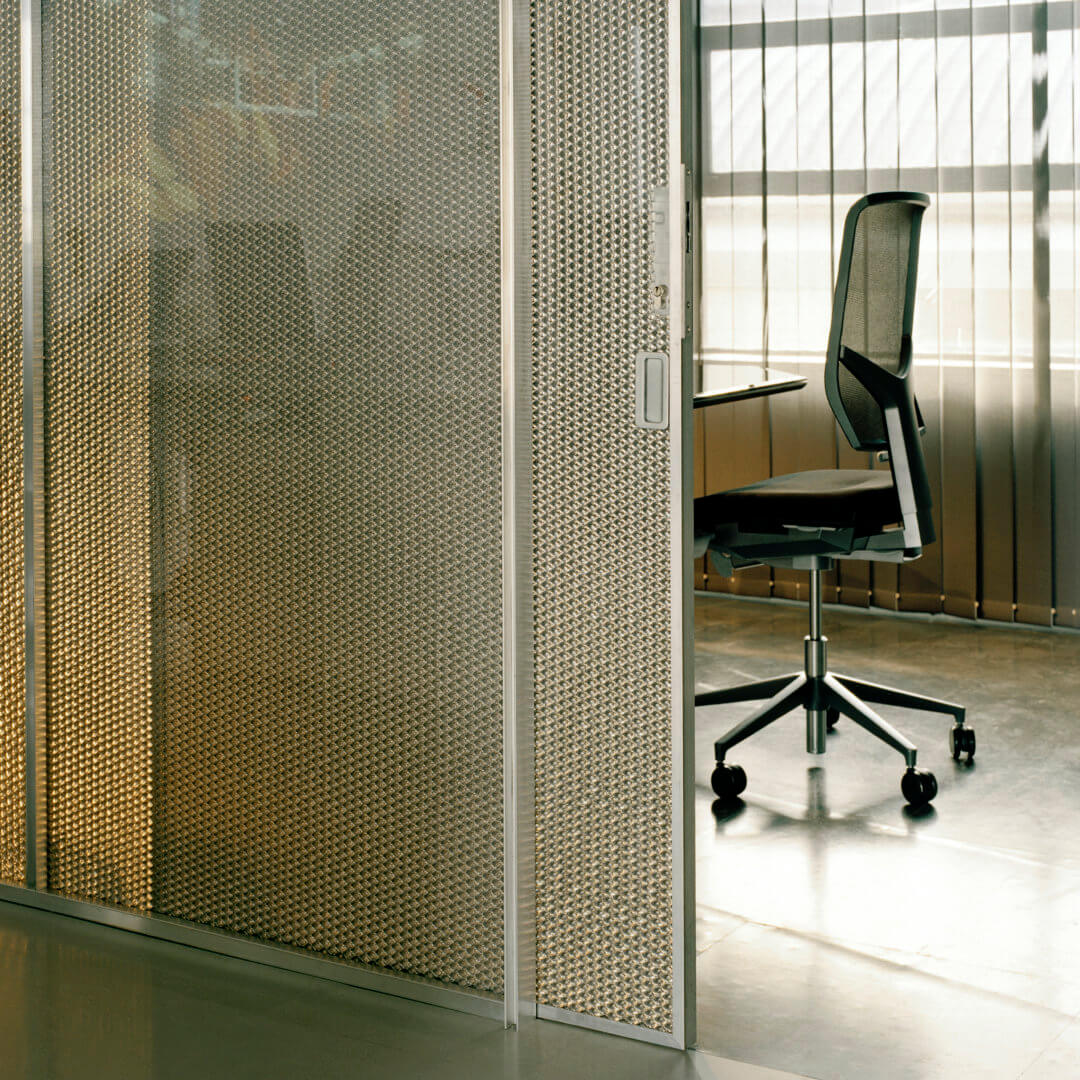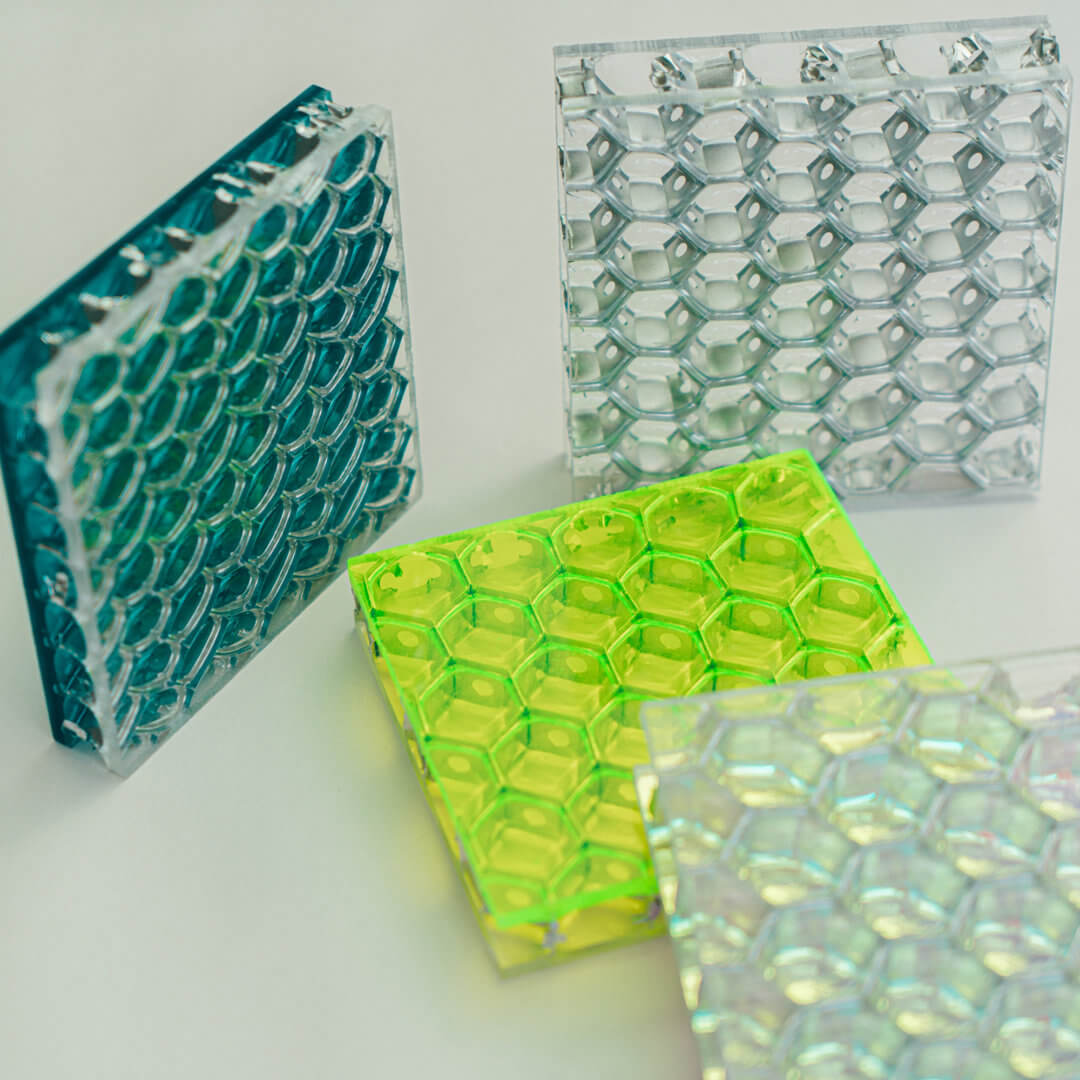 B-Clear 'The Series' composite panels
Our B-Clear 'The Series' composite panels are available in a vast variety of colour finishes, cut to customer-specified shapes. These panels are manufactured by applying coloured glass or polycarbonate outer skins to our signature aluminium honeycomb centre, creating the unique ''fish-eye'' effect.
The B-Clear 'The Series' range has a 78% light transmission rate; light passes through the panel but the product itself remains translucent. This rare quality ensures privacy and results in an area full of natural daylight – making Mykon panels an ideal alternative to comparable glass products.