Transparent honeycomb panels made by Mykon let natural light reach inner parts of a building without sacrificing privacy. The B-Clear panel range in particular has a 78% light transmittance value to create a welcoming and well-lit environment.
The made to order panels are manufactured by placing aluminium honeycomb core between toughened glass or polycarbonate skins to produce the unique 'fish-eye' effect.
Due to their excellent light transmission, Mykon's transparent honeycomb panels are often backlit to create stunning lighting effects.
The visually appealing panels, which can be manufactured with a variety of coloured skins, can be used to bring daylight and colour to any interior. The B-Clear 'The Series' range in particular offers a more translucent effect than that of our standard B-Clear and Crystal Glaze ranges. Light is absorbed and diffused through the B-Clear 'The Series' panels, projecting onto the opposite wall, ceiling or floor, creating an environment not dissimilar to that of a stained-glass window.
Mykon's transparent honeycomb panels are great for vertical or horizontal architecture and interior design applications including:
Work and table tops
Raised or stage floors
Partition walls
Room dividers
Suspended ceilings
Doors
Retail displays
Bespoke furniture and shelves
Flooring
Walkways and staircases
When made with toughened glass skins, Mykon's transparent honeycomb panels are ideal for flooring. The panels are scratch resistant, easy to maintain and highly resistant to deflection. Surfaces can also be either sandblasted or made non-slip for safety making them a great alternative to comparable glass products.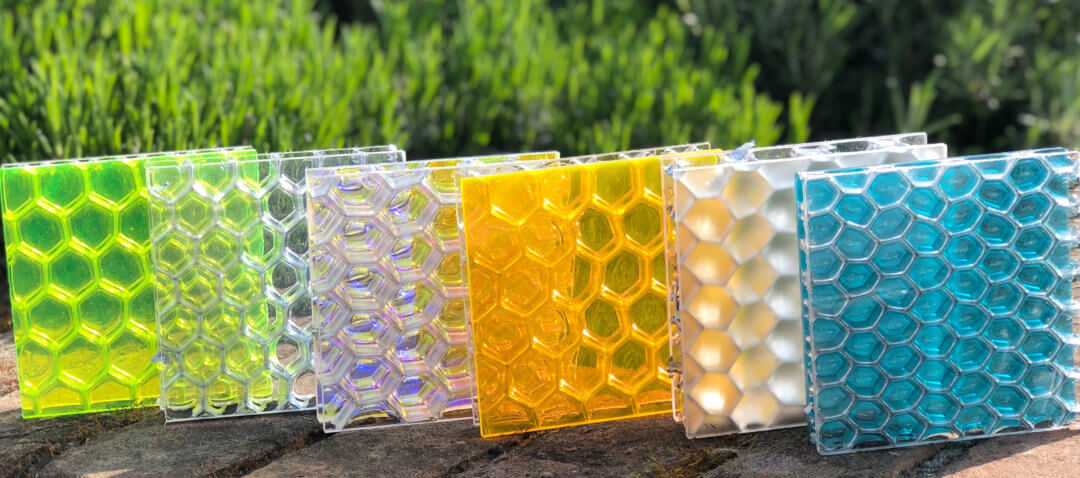 Similarly, when toughened glass panels are used for applications such as landings or staircases, they can open up previously dark spaces beneath them and reduce the need for electric lighting.
Mykon B-Clear panels were selected for the landing and stair treads for the Priory of the Assumption as a lightweight alternative to laminated solid glass, thus reducing the structure and allowing larger spans. Our panels allowed the transmission of light without compromising the available space while also being sufficiently translucent to avoid vertigo and preserve modesty.
The Mykon team are always happy to discuss bespoke project requirements so be sure to get in touch to speak to us directly even if your required application is not mentioned above. Alternatively, you can find out more about the range of products we offer on our website here or by following our Instagram account.