Decorative metal panels (Chillida) are an exceptional part of the Mykon range and consists of sheets of high-quality steel, naturally aged by exposure to the elements, producing a visually stunning rusted panel effect.
The manufacturing process for these decorative metal panels means that each sheet of steel ages differently guaranteeing that no two panels are the same and providing the exclusive look that is sought after in architectural applications.
The product was named after the late Eduardo Chillida, who is revered as one of Spain's most celebrated sculptors, famous for work such as his "Berlin" sculpture which was designed and produced for the office of the Federal Chancellor in Berlin. Chillida's work was primarily large metal structures which he added an alloy to when completed. This was the final touch which would form the brilliant rust colour much of his work pertained once it had oxidised. It was this innovation that was the inspiration behind Mykon's Chillida decorative metal panels.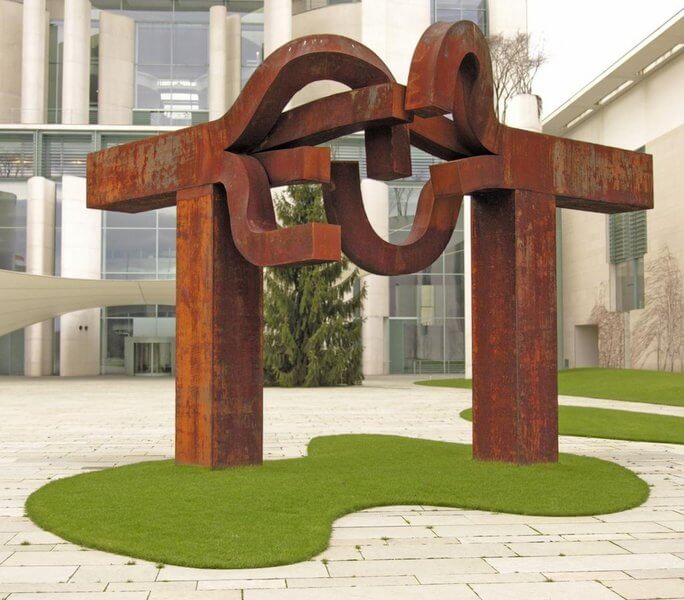 The process of developing Chillida into the final product takes almost a month from start to finish. Each sheet is sprayed with a solution to form the unique aesthetic of the panel and left exposed to the elements, a sealant is then applied to ensure the rust effect remains permanently and does not transfer to other materials. This method ensures that each panel is unique providing a totally individual look for every project.
The applications for Chillida are extensive. A previous project that used Chillida panels was for Squire and Partners, an architecture firm based in London. They commissioned the panels to be used in Howick Place as wall cladding by the stairways and elevators, to give it a rustic aesthetic. Chillida can also be used for flooring, panelling, or even bespoke furniture.
Chillida decorative metal panels are manufactured 2mm thick as standard, with dimensions up to 2500m in length and 1250mm in width. Larger sizes are also available on request.
If you are interested in using Chillida in your project, please contact us to request a sample.